Online Collection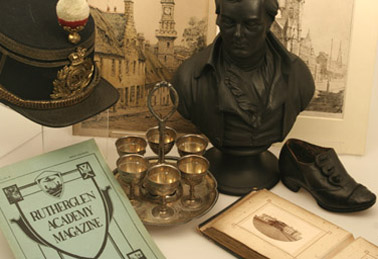 South Lanarkshire Council Museums collection consists of over 150,000 objects. We have begun to photograph, transcribe and digitise sections to make them more accessable and searchable. It is currently not a complete catalogue of our collections but offers, for the first time a look at what we have in store.
We intend to update this site and will continually update existing and add new records.
You can search our collection by theme, this will break down hierarchically until you reach the object that you want to find or alternatively you can use Simple Search. Simply write what you are looking for, if it has been added then it will appear in the results page, if not we suggest that you keep checking back to see if we have added any new objects. You can also search using the advanced search option, this will allow for a more detailed search such as photograph and Hamilton or 1920 and Hamilton.

Contemporary and classical art, decorative art and design, musical instruments and books.

Civic, military, regional and sacred costumes. It also covers sports and leisure Wear, theatre, TV and film costume, underwear and nightwear.

Embroidered, printed and woven textiles, flags, banners, lace and tapestry.

Film and photography collections, audio archives, local archives and military history.

Air, maritime, road & rail transport objects, tools, machinery and models.

Botany, geology and zoology: items from our Natural History collection.

South Lanarkshire, Scottish and world history, including archaeology, arms & armour, coins, local history and medals.